Having Fun at the Beach
is a song from
Wake Up Jeff!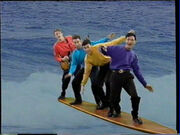 Prologue
Edit
(The kids are drawing some pictures about the beach with their highlighter markers and pencils while Anthony and Murray watch them.)
Anthony: We're doing some drawings about the beach. What are you drawing, Michael?
Michael: A towel.
Anthony: A towel. Well, that's a good drawing. And what about you, Peter?
Peter: Wags the dog with his tail.
Anthony: Wags the Dog and his tail. Ah, fantastic.
Peter: And his head.
Anthony: And his head. That's good. What about you, Leonardo?
Leonardo: I'm drawing a person swimming.
Anthony: A person swimming.
Murray: Nicole, can you tell me about your drawing?
Nicole: I'm drawing all the water in the sands.
Murray: The water in the sands. That's great. And Sian, what are you drawing?
Sian: I'm drawing a person about to jump in the water.
Murray: Wow, that's great. (to camera) Well, here's a song all about having fun at the beach.
Greg: (singing) Having fun at the beach
Greg T and Paul: Having fun, having fun at the beach
Greg: Having fun at the beach
Greg T and Paul: Having fun, having fun at the beach
Greg: Having fun at the beach
Greg T and Paul: Having fun at the beach
Paul: Having fun at the beach
(Footage of the real beach is shown where Anthony, Jeff and Murray are with two boys and Murray's daughter, Georgia putting on sunscreen and hats.)
Greg: Well, you put the sunscreen on your skin
Greg T and Paul: Sunscreen on your skin
Greg: And you wear your hat with a white brim
Greg T and Paul: Hat, hat with a white brim
Greg: Then you play and you swim in the waves
Greg: Having fun at the beach
Greg T and Paul: Having fun, having fun at the beach
Greg: Having fun at the beach
Greg T and Paul: Having fun, having fun at the beach
Greg: Having fun at the beach
Greg T and Paul: Having fun at the beach
Paul: Having fun at the beach
Greg: Well, you fill your bucket up with sand
Greg T and Paul: Fill, fill up with sand
Greg: Then you build your castle up with your hands
Greg T and Paul: Build, build with your hands
Greg: Then the waves wash your sandcastle away
Having fun at the beach
Greg T and Paul: Having fun, having fun at the beach
Greg: Having fun at the beach
Greg T and Paul: Having fun, having fun at the beach
Greg: Having fun at the beach
Greg T and Paul: Having fun at the beach
Paul: Having fun at the beach
Greg: (singing) Having fun at the beach
Greg T and Paul: Having fun, having fun at the beach
Greg: Having fun at the beach
Greg T and Paul: Having fun, having fun at the beach
Greg: Having fun at the beach
Greg T and Paul: Having fun at the beach
Paul: Having fun at the beach
(The camera flip sideways.)
Greg: (singing) Having fun at the beach
Greg T and Paul: Having fun, having fun at the beach
(The camera tilts around.)
Greg: Having fun at the beach
Greg T and Paul: Having fun, having fun at the beach
Greg: Having fun at the beach
Greg T and Paul: Having fun at the beach
Paul: Having fun at the beach
(Anthony lies down on the surfboard surfing while Greg gets off the surfboard leaving Murray and Jeff on it.)